What is the Five-a-day?
Five-a-day is a health promotion campaign the UK uses to encourage its population to eat adequate amounts of fruits and vegetables (F&V). In other parts of the world the recommendation may have different names like "Go for 2&5" in Australia, "Fruit and Veggies – Mix it up!" in Canada, a similarly name "5 a Day" in USA and 6 a Day in Denmark, however the premise is the same. In Barbados, our dietary guidelines suggest that we eat 2 – 3 serves of fruit and 3 – 5 servings of vegetables daily. But why is this even important?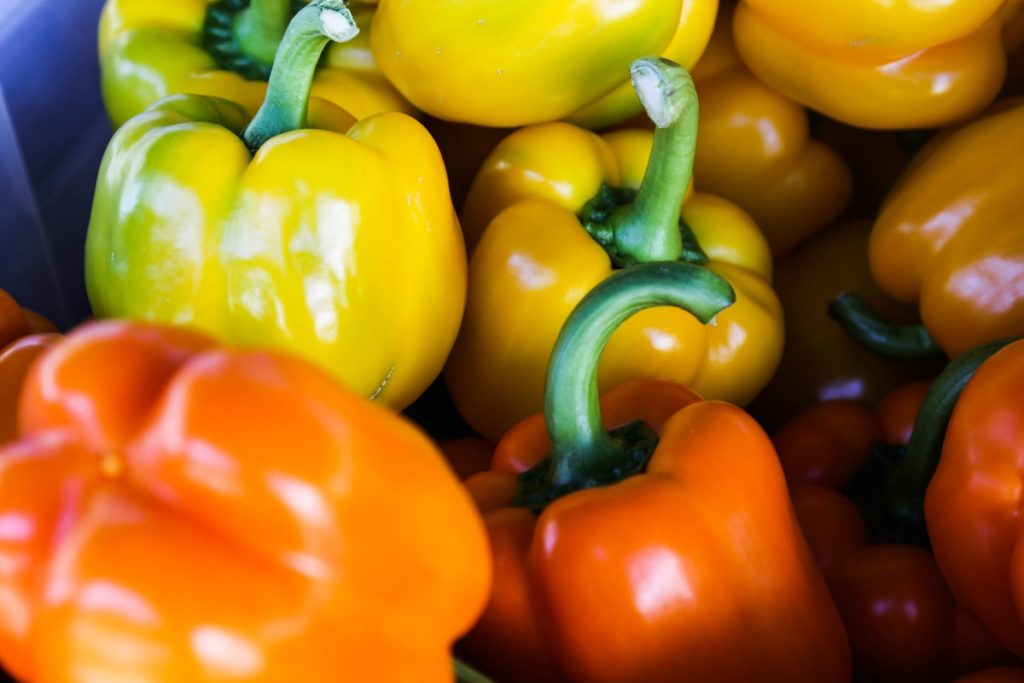 Why should I have five or more servings each day?
Fruits and vegetables provide us with hydration, fibre, vitamins, minerals and antioxidants. In their natural state, they're low in calories, fat, salt and sugar; although some can have a high glycaemic load which is not great for diabetics. They also taste great!
Several studies have shown that regular consumption of fruits & vegetables can aid in weight management, because of their natural fibre which can help with satiety, so you can feel fuller for longer. Eating at least five a day can also decrease the amount of high-fat, high-salt, high-sugar (HFSS) foods individuals eat, by displacing them out of the diet. Resulting in lower calorie intakes and hence weight loss. Evidence also shows that persons who consume a diet rich in fruits and vegetables have a lower incidence of chronic diseases such as high blood pressure, type 2 diabetes, obesity, stroke, colorectal cancers and cardiovascular disease (CVD). Also, the nutrients provided by a diet diverse in fruit and veg can improve immunity, body repair and mental health, unlike the empty calories you may get from HFSS foods.
But what does the 5-a-day look like?
As I've mentioned it consists of fruits and vegetables but what we often forget is that pulses are also a part of this category. Similarly to F&V, naturally they are often low in fats (saturated especially), salt and sugar, and have the added benefit of being high in protein, fibre as well as providing lots of B – vitamins and minerals such as iron, potassium magnesium and zinc.
In total, the WHO recommends that everyone eats at least 400g of fruit, vegetables and pulses a day, which the UK has conveniently divided into 5 portions of 80g, hence the 5-a-day message.
Approximating 80g, a portion can be:
1 medium apple, pear, orange or banana or similar-sized fruit
2 tangerines, plums, kiwi or 2 other similar-sized fruit
½ (half) of a grapefruit or avocado
1 handful of grapes, cherries or dunks
2 handfuls of berries – blueberries, raspberries
1 cereal bowl of lettuce or salad greens
3 heaped tablespoons of raw, frozen, cooked or canned vegetables – such as 2 broccoli florets, 8 cauliflower flowers, 3 tablespoons of corn, 3 celery sticks, 1 medium onion, 16 medium okras, 1 handful of chopped carrot sticks
3 heaped tablespoons of frozen, cooked or canned pulses – beans or peas. Keep in mind that this only counts once to the Five regardless of how many portions you have in 1 day
1 slice of larger fruit or vegetables – melon, pineapple, pumpkin, sweet potato, butternut squash or parsnips.
3 tablespoons of fruit salad – fresh or canned in fruit juice, not syrup
1 heaped tablespoon of dried fruit – apricots, currants, raisins, craisins (about 30g of product)
1 glass (150 ml) of 100% fruit/vegetable juice or smoothie (unsweetened) will only count once towards the five-a-day, no matter how many glasses you drink.
Does it always have to be fresh?
Five-a-day portions could include fresh, frozen, dried, canned and cooked fruit and vegetables. If we choose options that aren't fresh, check for added fat, salt and sugar which may lower their nutrition. But it does make it easier knowing that every portion does not need to be fresh from the garden, since spoilage and access are real challenges.
Fruits and vegetable sauces may also count if they are the main ingredient, but convenience- or ready-made food often add fats, salt or sugars in processing. So, they're not the best example of the five-a-day.
While starchy foods such as potatoes, yam, plantain and cassava don't count towards the 5-a-day, as they are staple foods providing starch.
You may also notice juices and smoothies are included but limited. Although the fruit or vegetable juice may be natural, the juicing process typically removes most of the natural fibre we get from eating that whole food and releases the natural sugars. Dried fruits are also kept to a minimum as they can stick to teeth and lead to cavities. As the sugars present in dried fruit can impact dental health, five-a-day or other similar recommendations focuses on a higher vegetable intake.
A diverse diet of five-a-day or more is more achievable now we know the options. Eating a rainbow of fruit, vegetables and pulses can improve of health and weight management over time. Try eating one of each colour to increase the amount of nutrients you receive, and it'll also make keeping track of the five-a-day a lot easier with red, yellow, green, orange, purple and white options! Not sure about the fruits and veggies not listed? If in doubt, use a hand! Your handful can be a quick way to measure a portion.
References:
British Dietetics Association, 2017. Fruit and vegetables – how to get five a day [WWW Document]. URL https://www.bda.uk.com/resource/fruit-and-vegetables-how-to-get-five-a-day.html
British Nutrition Foundation, 2016. Fruit and vegetables – British Nutrition Foundation – Page #1 [WWW Document]. URL https://www.nutrition.org.uk/healthyliving/healthydiet/fruit-and-vegetables.html?start=2
Global Pulse Confederation GPC, 2016. Food Security, Nutrition & Innovation [WWW Document]. URL https://iyp2016.org/index.php?option=com_content&view=article&id=10
Hartley, L., Igbinedion, E., Holmes, J., Flowers, N., Thorogood, M., Clarke, A., Stranges, S., Hooper, L., Rees, K., 2013. Increased consumption of fruit and vegetables for the primary prevention of cardiovascular diseases. Cochrane Database of Systematic Reviews. https://doi.org/10.1002/14651858.CD009874.pub2
National Health Service UK, 2018a. 5 A Day FAQs [WWW Document]. nhs.uk. URL https://www.nhs.uk/live-well/eat-well/5-a-day-faqs/
National Health Service UK, 2018b. Why 5 A Day? [WWW Document]. nhs.uk. URL https://www.nhs.uk/live-well/eat-well/why-5-a-day/
Padmavati G. Gore, Dr. KuldeepTripathi, Richa Upadhyay, Swati Deepak Dubey, 2017. Nutritional Benefits of Pulses [WWW Document]. Scientific India Magazine. URL http://www.scind.org/462/Health/nutritional-benefits-of-pulses.html .
World Health Organization, 2019a. Essential Nutrition Actions: mainstreaming nutrition throughout the life-course.
World Health Organization, 2019b. Increasing fruit and vegetable consumption to reduce the risk of noncommunicable diseases [WWW Document]. WHO. URL http://www.who.int/elena/titles/fruit_vegetables_ncds/en/
World Health Organization, 2003. WHO and FAO announce global initiative to promote consumption of fruit and vegetables [WWW Document]. WHO. URL